Focus: Americas Business Journal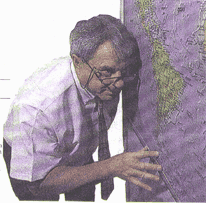 Having a fit
William J Messett III turns the world upside down to find the right executives for Latin American companies
John T. Fakler Staff Writer

From his Miami office, William J Messett III can almost touch the South Pole.
As an international executive headhunter specializing in Latin America, his reach covers the Straights of Megellan to the southern tip of Chile and hundreds of points in between. Fluent in Spanish and Portuguese, Messett knows what companies seek when it comes to filling top spots at remote Latin American subsidiaries.
"Executives who can speak the language, who understand the nuances and cultural differences of the countries they'll be working in — companies place a premium on these recruits," Messett said.

Messett also sees a need for executives with special skills.

Case in point: A large timeshare project faced trouble. Sales had fizzled and the banks were knocking on the door. Messett was called in. He analyzed the project with the developer and decided that the first step was the replacement of the company president.
Messett said they needed to find a candidate with varied skills. The search took four months and covered every country where there were time share projects.
Hunter from the heartland
What's a guy from Chicago doing in a place like Latin America?
"I wanted to go international since I was 14," Messett said. "My father was an executive with Walgreens and he used to buy all over the world, so I met a lot of people from different countries."
Messett spent a good portion of his college career in Mexico City and some time in the Peace Corp. He got his graduate degree from Thunderbird business management school in Phoenix. After holding general management positions for U.S. companies in Mexico and Costa Rica, he moved to Columbia where he opened an executive search firm. He returned to the U.S. in 1983.
But Latin America stayed in his blood. He's made a lot of contacts there over the years and some strong bonds.
Not everyone understands what he does, however.
"When I was on vacation in the Dutch West Indies I told this guy I was a headhunter," Messett reminisces. "The guy smiled, finished his drink and slid to the other side of the bar. I think he took me literally."
Lucrative results
On average, Messett's hires command between $90,000 and $1 million a year in salary. Messett Associates' fee to conduct a search in the U.S. is 33 1/3 percent of the total annual compensation, which includes base salary, bonus and other cash benefits. For international searches, the minimum is 35 percent.
Messett's payment arrangement is similar to that of the larger placement firms such as New York-based LAI Worldwide (Nasdaq: LAIX), which receives compensation regardless of whether it successfully places a candidate.
Daniel McCool, editor of Executive Recruiter News, said the activity in the U.S. reflects a healthy international search industry. Along with Korn/Ferry, Heidrick & Struggles, SpencerStuart, Egon Zehnder and Russell Reynolds all improved their revenues worldwide.
"These firms tower over the search landscape," McCool said.
The key to success, Messet said, is making the right connection between company and executive.
"We ask if they're bothered by certain management styles, or their feelings toward certain countries," he said, "this way both the client and the applicant know if it's a good fit."